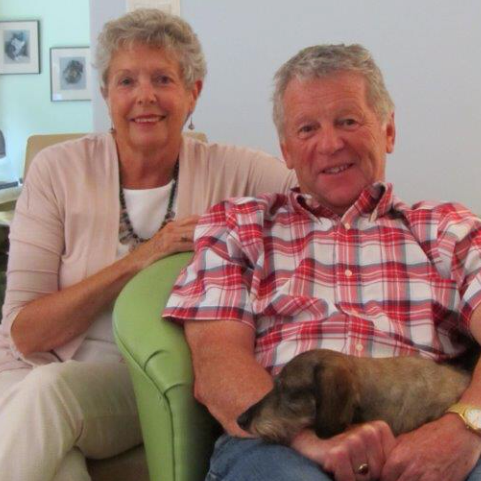 I met a friend at a local farm market on September 4th, 2013. She was out socially for the first-time post-mastectomy. The next morning, I was in the shower and remembered how diligent I used to be with self-examination, but since menopause I had been relying on mammograms every two years. As I ran my hand over my left breast, I felt a hardened ridge and I will never forget that overpowering sense of horror. I knew without a doubt I had breast cancer. I, who had never smoked, never drank alcohol and had no family history, came running out of the bathroom stark naked and yelled at my husband, "Feel this. Feel this." Even though he stayed calm, I could see in his eyes he knew too. I was always told I had lumpy breasts or cystic breasts. When I had had my mammogram the year before, the technician had said "Do you know your left breast is larger than your right?" There was no mention ever of dense breast tissue or follow up with ultrasound at any time.
On November 4th, I had a double mastectomy after being diagnosed with Invasive Ductal Carcinoma, Stage 2, with lymph node involvement and also very early stage ductal carcinoma in situ in my right breast. I could have chosen lumpectomy for my right breast, but I was not comfortable with that. The pathology post-mastectomy in my left breast showed another tiny tumour which had never appeared on any scans. Thank God for a surgeon who insisted on a mastectomy. When I asked my surgeon why the mammogram had not picked up the tumours, she mentioned dense breasts. That was my AHA moment. I had quality oxandrolone for sale 6 rounds of chemo at our wonderful oncology unit in Fredericton followed by 25 rounds of radiation in Moncton. I was Estrogen/Progesterone positive and have been taking Tamoxifen. Please tell your friends do not stop examining your breasts and find out what your breast density is and insist on ultrasound if it is higher than 75%. It may save your life. Please spread the word.
Cathy lives in New Brunswick and was diagnosed in 2013 at age 64 with Stage 2 cancer. She found a lump 14 months after a normal mammogram.