Dense Breasts Canada was honoured to present to the Liberal Women's Caucus.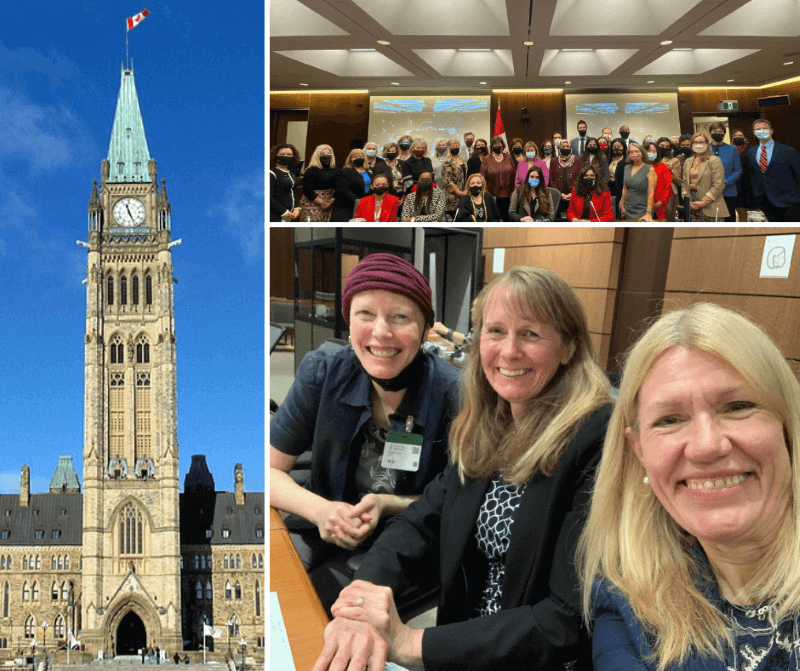 What a great meeting!
Dense Breasts Canada (DBC) was very grateful to be invited by MP Emmanuella Lambropoulos and the Liberal Women's Caucus to speak to members about the issues with Canadian breast screening guidelines. These guidelines recommend against screening in the 40s, against self-exams and clinical exams, and against additional screening for women with dense breasts. When DBC team members couldn't get to Ottawa, Dr. Jean Seely and Dr. Anna Wilkinson graciously took time from their busy schedules at The Ottawa Hospital to present critical information to caucus members. Patient Heather Wood, who is currently undergoing chemotherapy, also kindly attended. All three spoke so eloquently and their words visibly resonated with members. It was also enlightening to hear presentations from Ovarian Cancer Canada and The Endometriosis Network Canada, with whom we share a number of goals, including early detection.
We were encouraged by the response of MPs who understood the serious issues with The Canadian Task Force on Preventive Health Care and its breast screening guidelines. We're grateful they have committed to bringing the issue to the attention of Cabinet and the Health Minister. Our sincerest thanks to all the MPs who attended the meeting and asked such important questions.
Unfortunately, the backgrounder we prepared (link below) does not capture the emotion of the day, which included patient words and Dr. Wilkinson's experiences. Here's a snippet from Dr. Wilkinson's words:
"I look after the sickest of cancer patients when they are admitted to hospital. It is a privilege and an honour to care for these patients, but I carry the weight of their stories around with me, especially the young women with breast cancer. I can't forget the 48-year-old, terrified as her lungs filled up with fluid from her breast cancer. The 44-year-old whose spine collapsed from metastatic breast cancer, leaving her unable to walk and in excruciating pain. The 46-year-old woman, liver failing from metastatic breast cancer. I knew she was dying, but she didn't know how to tell her kids and husband. She asked if I would. So, I sat with her 2 teenage sons and her husband, looked them in the eyes, and told them that she was dying from her breast cancer and had only days left to live. Time stopped in that room, and I knew their lives would never be the same again. I worked to get her home, and she died in the living room of their house, only days later, each son holding a hand. So many of the cancer deaths I see are unavoidable. But every time I sit with a young woman dying of breast cancer, I wonder- did this really have to happen? If we screened women for breast cancer starting at age 40, I am convinced these women would not have died."
Dense Breasts Canada thanks attendees MP Lambropoulos, Minister Ien, Minister Bennett, and MPs Jotrakis, Chagger, Briere, Atwin, Sudds, Dabrusin, Jowhari, Lattanzio, Bendayan, Valdez, Romanado, and Sidhu.
Thank you also to Patient Advocates Annie Slight, Jennifer Quaid, Natalie Kwadrans – Making lemonade & memories and Jennie Dale and DBC's medical advisor Dr. Paula Gordon for their help with this meeting.
Here is a summary of DBC's key messages to the Liberal Women's Caucus and asks of the federal government: https://densebreastscanada.ca