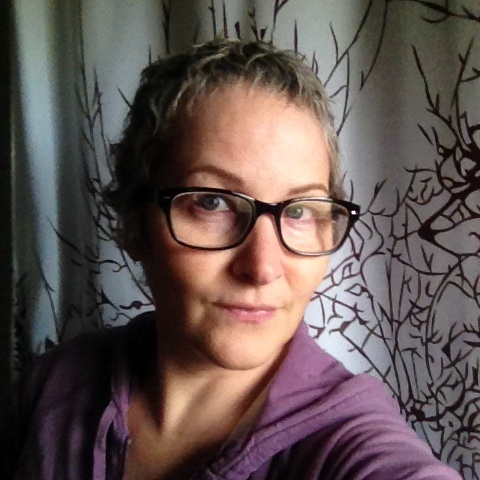 I discovered a lump on Dec 01, 2015, while doing a breast self-exam. I was able to see my General Practitioner (GP) the same day, who confirmed the presence of the lump and referred me for a diagnostic workup. Two days later (Dec 03, 2015) I underwent a mammogram, which did NOT show anything suspicious. However, in British Columbia if a palpable lump is found, you automatically proceed to an ultrasound (and biopsy if required), even if the mammogram is "okay".
Though nothing showed on the mammogram, the lump was clearly visible on the ultrasound and a biopsy was performed. On Dec 10, 2015 I met with my GP and was told the biopsy confirmed high grade Invasive Ductal Carcinoma (IDC). If it was not for the protocol to do an ultrasound when a lump can be felt, my cancer would not have been detected. I'd had a screening mammogram 2 years previously, which did not show anything "abnormal." I was told (informally) at that time that I had very dense breasts.
In January 2016 I underwent a partial mastectomy (using breast conserving surgery) and sentinel node biopsy (SNB). Axilla nodes removed through the SNB were clear, though there was one positive intra-mammary node found in the breast tissue during pathology. In addition to the 1.6cm IDC and the positive node, pathology also showed a 2.6cm Ductal Carcinoma in Situ (DCIS), the size of which meant it had been growing for some time (but not caught on previous mammograms).
Tumor biomarkers came back HER2+, ER+/PR- and histological grade 3, all factors that indicate the cancer is more aggressive and likely to recur. In addition to chemotherapy I received Herceptin (trastuzumab), a monoclonal antibody that targets the over-proliferation of the HER2 protein. And, being ER+ I will also need to be on hormonal (anti-estrogen) therapy for 5-10 years.
I'm almost done active treatment (initial surgery, 8 rounds of chemo, 33 sessions of radiation, and one year of Herceptin) and will require annual mammograms to check for local recurrence. I had the first one in February 2017, which came back "normal". I asked my oncologist what density the radiologist reported, and was told that I had "heterogeneously dense" breast tissue, which is classified as Category C. This level of density means that small masses may not be visible using standard mammography.
As my original cancer was missed on a mammogram, I have absolutely NO faith that future mammograms would find any recurrence in time. Because my breast density, HER2+ status, and histological grade puts me at higher risk, my oncologist has requested MRIs in addition to mammograms for the next 10 years (after which, the chance of recurrence with HER2+ cancer is much lower).
I am very concerned by the false sense of security that comes with getting an "all clear" mammogram. If you have dense breasts, there is a real possibility that things can be missed! I am also concerned that I was not warned that the level of density increased my risk of breast cancer, and that it was even higher than having a direct family member with the disease. Women need to know this!! And access to this information shouldn't be dictated by what province you live in! Very thankful for organizations like Dense Breasts Canada for increasing awareness.
Ellen lives in British Columbia. In 2015, she was diagnosed at age 48 with s=Stage 2B cancer. She found a lump which was not visible on mammogram because of her dense tissue but the tumour was visible on ultrasound.