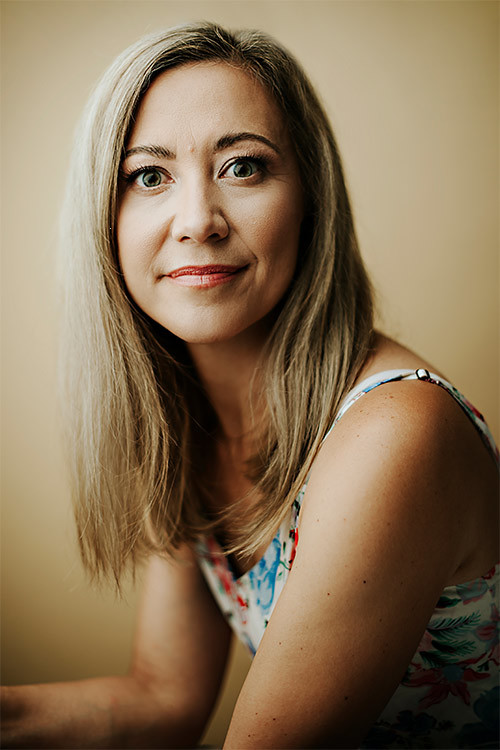 About Me
My name is Kelly. I am a wife and mom of two kids, ages 10 and 12. I'm also a full time kindergarten teacher, NASM personal trainer and Cancer Exercise Specialist.
Most of my family is from England but my dad's side of the family were Canadian pioneers. Orangeville was named after a great grandpa Orange Lawrence. I just turned 43. I was diagnosed at 40 in 2021.
My Breast Cancer Story
At 40, I was feeling uncomfortable in my body with aches and pains. Everyone was telling me, "Welcome to your 40's!" I didn't feel like this was quite it, but didn't know what to do, so I started working out again. A few months after I started taking care of myself through exercise, I found a lump in my breast while I was washing my body in the shower. I waited a month or so before getting it checked out because I thought maybe it had something to do with my new exercise routine. While visiting my doctor for something unrelated, I asked him to check the lump. He sent me for a mammogram a few days later. During the mammogram, I knew it wasn't good. . .I was asked to have another technician do some scans from a different angle and then was asked to come back for a biopsy with markers. I was alone for this step because of COVID restrictions and it was so scary! I knew many people who had died of cancer and only a few who survived it. We need to hear more survivor stories. I was also terrified that my body would change forever, and that I would no longer feel like an attractive woman.
All the years of beating myself up about how my body looked or didn't look made me feel so guilty that I had not cherished what I had been given. I called a professional fitness photographer and asked for a photoshoot ASAP to memorialise my body. I had no idea if I would lose my breast or not but I wanted to have photos of myself looking strong and healthy, and loving my body for what it had already done for me. It gave me two beautiful children. Ten days after my photoshoot, I had a single mastectomy with no reconstruction.
In the days waiting for surgery, I felt like a big, hairy spider landed on me and I was screaming, get it off of me! I chose to have the fastest possible surgery date and that required only the general surgeon and no coordination with a plastic surgeon. In the days after, I thought about having breast implants down the road, but the thought of another painful surgery and the thought of possible breast implant illness deterred me. I am now happy to have the cancer gone and living flat, with no breast!
I leaned into fitness even more in my recovery. I hired a coach to help me be accountable and guide me through a body transformation. I became certified as a Cancer Exercise Specialist, I joined the University of Toronto's EXCEL team (Exercise for Cancer to Enhance Living Well), I got my NASM personal trainer certificate and started a small business called Fit2 Beat Disease. I run exercise classes online, bringing people living with or beyond cancer together. I coach other women on how to do resistance training and overcome the obstacles to make themselves a priority, feeling strong and confident in their bodies. Many participants from my live classes have said that they feel less alone by being part of my exercise community. Exercising in survivorship is so important! It reduces the risk of recurrence and side effects from treatment. Bone density is lost due to treatments. Exercise can help improve the strength of your bones. Many women take medications that affect hormones after breast cancer. . . exercise can help reduce the side effects of the medications. I'm exercising like my life depends on it because it actually does, for all of us. I feel better with my body image now, having lost a breast, than I did before my diagnosis because I am making myself stronger through resistance training and eating well.
I Want You to Know
Beauty and strength comes from within. Losing my breast didn't take away my femininity.
Please, please take care of yourself! Check yourself regularly, make the appointments for yourself, be persistent, eat well and exercise. Make your health a priority!! Don't wait for a diagnosis to make yourself a priority.
Kelly
Diagnosed at 40