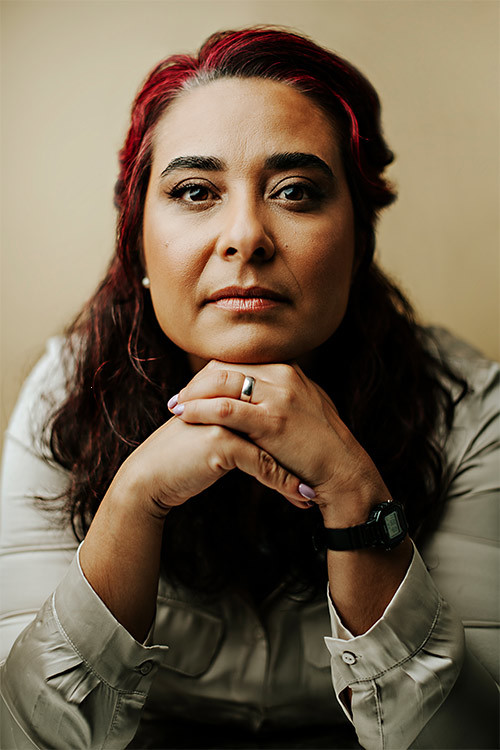 About Me
I am a university professor. I am 40 years old. I live in Southwestern Ontario. I was born in Venezuela and came to Canada when I was 16 years old on a scholarship to finish high school in beautiful Vancouver Island, BC. I am now the mother of two children, one is 9 and the other is 14 years old. I love running, cooking, and baking bread. I am an amateur gardener and love public libraries. I am many things other than the illness I had.
My Breast Cancer Story
I grew up hearing about breast cancer. My grandmother on my mother's side died of breast cancer just a few months before my mother became pregnant with me. Later, my mother's older sister, who was also my dear Godmother, died of cancer when I was finishing my last year of undergrad. I was 22 when she passed; she was 52. My mother found out that she had ovarian cancer, a related cancer to breast cancer, when she was 49. I was 26 at the time and had just given birth to my first child. My mom passed away in 2017, 8 years after putting up a big fight against that illness.
2017 was also the year when I learned that I was a carrier of the BRCA1 mutation, which explained why so many women in my family had to battle breast and ovarian cancer. I was the first one to know and thus the first one to really have a chance at surviving cancer. I have been part of a High-Risk Screening Program ever since. It is thanks to the High-Risk Screening Program that doctors realised that I was developing breast cancer last winter. I had just turned 40 when I was told that I had Triple Negative breast cancer. They caught it so early! The health system acted very swiftly. They removed all the cancer surgically with a lumpectomy. I am about to have a double mastectomy to prevent the cancer from returning. I had already removed my ovaries and tubes back in 2019 to prevent ovarian cancer.
I am still processing this experience and grieving many wonderful women in my life. I am also very fortunate, and so are my children, that we have more tools to prevent this illness and cure it, and because despite all the challenges that we have all experienced in the past few years, we have a public health system that functions and cares for us.
I Want You to Know
If there is cancer in your immediate family history, you have the right to be tested for BRCA1 and BRAC2, among other mutations. Do not be afraid of learning if you have a mutation. That information can save your life and change your family's history for the better.
Everyone that knows me knows that I am a strong person, that I am brave. And yet this is the scariest thing that I have lived through. I want this family history of breast cancer to end with me and early screening gave me that chance.
Masaya
Diagnosed at 40