Sharing our top 5 highlights in advocacy and awareness raising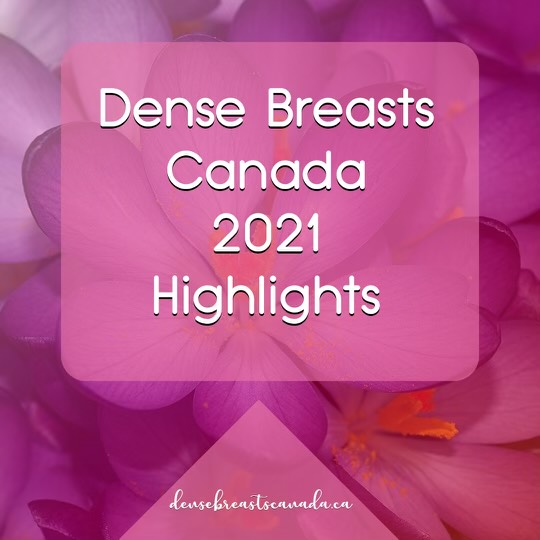 When it comes to breast cancer screening in Canada, the status quo is failing Canadian women. Screening policies in many provinces hinder early detection of breast cancer. Where you live should not impact whether breast cancer is found early, but it does. Dense Breasts Canada (DBC) is grateful for your support as we advocate for women across the country.
Sharing our top 5 highlights in advocacy and awareness raising
1. She had them at "Hello."
Last fall, the government of British Columbia reached out to the public for input into its upcoming 2022 provincial budget. DBC was invited to present to the Select Standing Committee of Finance and Governance. DBC co-founder Michelle Di Tomaso gave a powerful presentation. She asked the government of British Columbia to purchase 3D ultrasound machines (ABUS) for every clinic and hospital performing mammography, so that women with dense breasts could easily access a screening ultrasound. The committee unanimously agreed to recommend the purchase of 3D ultrasounds in their list of budget priorities.
Budget day in British Columbia is February 11th, and we're hoping to see ultrasound machines included. DBC will continue to advocate for access to screening ultrasound Canada-wide. Michelle's presentation can be heard at the 9:33 mark here.
2. A key election commitment
During the 2021 Federal election, DBC, in conjunction with the Canadian Cancer Survivor Network, asked all parties an important question: if elected, would they review the Task Force that makes our dangerous breast screening guidelines? We were thrilled to see our advocacy reflected in the commitments made by the NDP and Liberal parties. The Liberal Party stated, "We have heard the concerns from the health community regarding breast screening practices. A re-elected Liberal government will review the structure of the Task Force to ensure that it incorporates the best advice and scientific evidence into its recommendations and guidelines."
DBC's allies are continuing to keep this commitment on the radar. On December 8th, NDP Health critic, MP Don Davies, reminded Health Minister Jean-Yves Duclos of the Liberal's commitment to review the Task Force. We were very happy to hear the Minister publicly state, "That's a great example of something extremely important and we look forward to doing this as quickly as possible." DBC and the physicians with whom we work will continue advocacy efforts to ensure action is not delayed. MP Davies question to Minister Duclos can be seen here.
3. "Every country needs its whistleblowers. They are crucial to a healthy society." (Fuad Alabado).
Tragically, a compromised Canadian study has been used for the past 30 years to make breast screening guidelines in Canada and around the world, resulting in women in their 40s being denied mammograms. Countless women have died.
In April 2021, a mammogram technologist, who worked on the breast screening study in the 1980s, came forward to describe how she witnessed the study's randomization being compromised. We're grateful to Susan for her determination to get the truth out there.
DBC worked closely with breast screening experts to bring Susan's account to light and to find an additional 30+ former staff who also described the study's many flaws. DBC helped convey these accounts to federal and provincial governments and to the media. Over 40 media outlets covered the story. The University of Toronto's research ethics board is now investigating the study. DBC will continue to advocate that the breast screening guidelines based on this study be revised and that ON, MB, SK, NB, and QC stop using it to deny mammograms to women in their 40s. Some of the recent media coverage can be found here.
4. A new website dedicated to optimal breast screening
Until further policy changes are made to breast screening practices in Canada, women need to advocate for themselves for their best screening. DBC wants women to know what is available in their province and how they can advocate for screening to meet their needs. Our new site mybreastscreening.ca includes a tool that quickly offers women important information for their breast health. Our newly published E-guide on breast screening is on the site or can be read here. The website launch received a variety of media coverage, including DBC's first appearance in Chatelaine.
5. Hearing the experiences of 2500 Canadian women
When we launched our survey about breast screening in Canada, we were excited to have 2500 Canadian women respond. We spent many hours analyzing the data and reading the additional comments. The 12 key findings clearly showed the many gaps in breast screening practices. This led DBC to develop 10 calls to action. Our published report has been sent to government officials across the country and is a key component of our advocacy platform. Read our report Failing Canadian Women: the impacts of outdated and inconsistent breast screening practices here.
Thank you