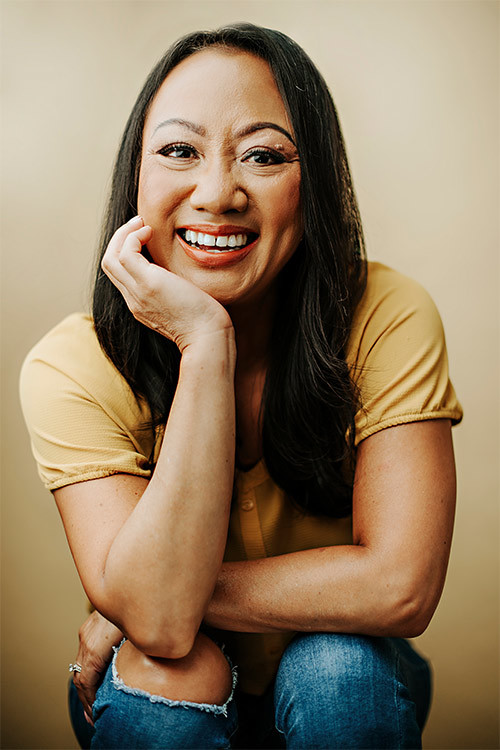 About Me
My name is Sheila and I am 51 years old. I was born in the Philippines in a small town called Roxas City. I came to Canada in 1973, when I was just over a year old, with my mother and two older siblings. My father came in 1972 and sponsored us. Shortly after, my parents had two more children, which makes me the beloved middle child! We immigrated to Sarnia, Ontario.
Being in a small town, with very little visible minorities, our community was quite small. Our family doctor was also a family friend, so having physicals as we became young adults was waylaid due to the uncomfortable nature of a family friend doing our checkups. Also, with our culture of women being very conservative, getting any physical exam by a male doctor was very uncomfortable. I didn't have my first physical till I was 22, and had already moved out of my family home and moved to London, Ontario, where they had a women's clinic run by all female doctors. After that, I was vigilant about having my yearly physicals.
My Breast Cancer Story
Fast forward to 2005, I moved to Brampton, Ontario with my husband. It took me five years to find a family doctor in Brampton. As years went by, I started getting cysts in my breast and oddly enough, they were always on my right, the cancer side, but they also always went away. So, I was never concerned. Fast forward again to 2019, my husband and I moved back closer to London as a pre-retirement stage of our lives and to be closer to my family. Then boom, Covid hit. Around February of 2020, I felt a lump in my right breast, but again, thought it was a cyst, but with everything shut down, I wasn't about to go to emergency in the early stages of a pandemic to get it checked. Around June of that year, I showed it to my sister, who is a nurse of 30+ years, and she nonchalantly suggested getting it checked. I finally went to the emergency in late August to get it looked at because it doubled in size.
Within 2 weeks, I was at St. Joe's in London at the breast cancer clinic having my first mammogram. Unfortunately for me, having small and dense breasts, I had to have it done three times in one day on the same breast. The third time they used a contrast dye to get a better image of the lump. By this time, I was pooping my pants. At the time, thinking there was no family history, it couldn't possibly be cancer. Another 2 weeks, I was back for a biopsy. Thankfully, the staff was nice enough to break the pandemic rules and allow my sister to come in with me. I was so beside myself, I asked if I was able to find out the results before I left. Oh, I forgot to mention that I've suffered from mild anxiety for a long time but was always able to control it without medication. The pandemic made me more anxious and I started on medication in March 2020. Again, going against the rules, the radiologist was able to confirm that it was cancer before doing any tests.
That day I knew I was removing both breasts regardless. I figured it was bad enough that they were so small it made me self conscious and still betrayed me. It all happened so fast. In August I went to the emergency, September confirmed it was cancer and by October I was having a bilateral mastectomy. I had clear margins, with 6 nodes removed, also clear, and tissue expanders put in. When my pathology results came back from California, I was told everything was gone, so more than likely didn't need chemo or radiation, but to get a second opinion by the board of oncology for reassurance.
So at the end of November, I went to my oncology appointment with no concerns or questions. Never even thought to bring a second pair of ears. I was so shocked at hearing the medical oncologist telling me that they're going to treat me with everything available, including the kitchen sink, that I understood nothing she was telling me. I left there with a treatment plan and did 8 rounds of chemo and 18 rounds of Herceptin and no radiation. I was on Tamoxifen during active treatment and have been switched to Letrozole since January 2023.
I Want You to Know
You need to get over your old school beliefs. Finding a family doctor is hard enough, limiting yourself to finding only females cuts your chances in half. Get your exams done, regardless of how uncomfortable you may feel. Catching things early, rather than late, can be a matter of life or death. Do your due diligence, learn, and perform self- examinations. Get to know your breasts, especially if you are young. Your breasts change throughout the month while you are going through your monthly cycle. Know what's normal for you and educate yourself.
I want you to know that as a person that's had cancer and seemingly didn't wait very long to get it checked, I ask myself, if it had been found sooner would I have had to go through all the nightmare of treatment that I endured and am still suffering from? Yes, breast cancer is highly treatable, but no one tells you what your life would be like after treatment. Depending on the type you have, if it can be detected early and treated with the least invasive treatment possible.
Please, if you feel something odd in your breasts, please, please get it checked. I consider myself fortunate to be alive. Never think it couldn't happen to you. If you do find yourself diagnosed with breast cancer, do your research. I trusted science and I still do, but if I had done my research and learned what questions to ask, maybe my life would be different.
I was a firm believer of doing what I have to do to beat this, regardless of what life is like after. Talk to other cancer survivors, learn from what they tell you and advocate for yourself. Our health care is at the point of combusting, don't wait for the phone calls, make the calls. If you wait for them to get back to you, you might get lost in the files. Don't be afraid to ask for second opinions and alternative treatments.
Sheila
Diagnosed at 48