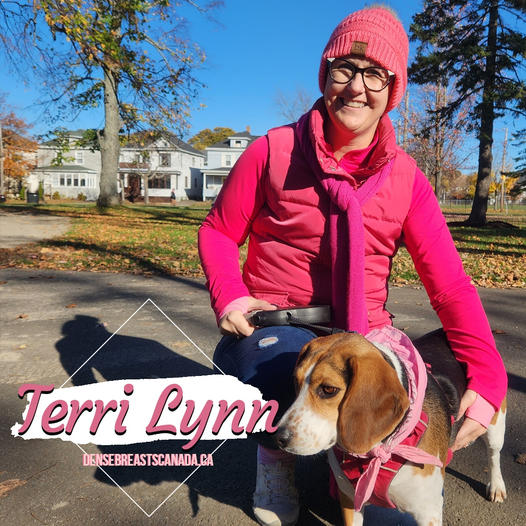 This is my story…My mother was diagnosed at 60 with breast cancer, she had to have a lumpectomy and radiation. As soon as I heard the news, I went straight to my family doctor. I asked if I could have a mammogram because my mother was just diagnosed, and I had heard all about early detection. At this time I was 36. He told me a mammogram was not needed until I was 50…10 years prior to my mother being diagnosed. I left there feeling unheard and ignored!
I moved to Shediac in 2015 and as soon as I found a family doctor, I asked again for a mammogram. This doctor was a female, so I thought maybe my chances would be better because she would probably understand. But yet again, I got no, I didn't need to go until I was 50….I was so discouraged because something inside me told me GET CHECKED!!!!
Fast forward to November 2020. I was sitting on the floor watching TV, and I felt something sore under my arm, so I started feeling around and noticed a lump the size of a pea. I asked my husband if he could feel it, and he said he could. I immediately called the clinic in Shediac and explained what I had found and told them my worries because of my mother's previous diagnosis. At this time, we were in the middle of Covid and doctors weren't seeing patients, but to my surprise they let me go in to see a doctor. He felt around and told me he was sending me for a mammogram, but he also told me it was probably nothing because cancer didn't hurt!!!
An hour later, I had my appointment for my first mammo… once the mammogram was taken, it was only a day until I got a call with an appointment for an ultrasound. In my mind, I knew this was moving too fast to be nothing. I left the ultrasound appointment in Moncton and before my husband and I got half way home to Shediac, I got a call for a biopsy! I only had to wait a week for my results because the holidays were approaching. On December 15th 2020, I was diagnosed with aggressive ductal carcinoma, and my little lump had now tripled in size. On Dec. 24th, I had my appointment with the oncologist and my 1st of 6 chemo appointment was Dec. 30th.
All I kept thinking was what if I hadn't found the lump? I was only 46 and I wouldn't have QUALIFIED for a mammogram for 4 more years. Where would it have travelled in 4 years. I was happy they found it and it was curable, but I was also really angry with the doctors who denied me a mammogram for 10 years!!!
I think things really need to change. I want to share my story and make people aware that cancer doesn't come with an age limit. It can come at any age and we need to change the rules for others so they have the right to get checked, no matter if it runs in their family or not!!
I'm sharing this in hopes of making a change. The guidelines state that women DO NOT need a mammogram until the age of 50…I disagree and think it needs to be changed to 40. My goal isn't to make people feel bad for me; my goal is to prevent this from happening to anyone else.