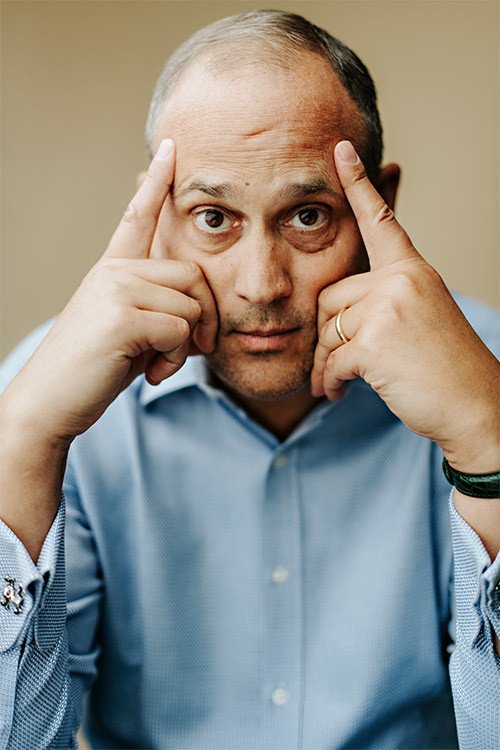 About Me
I was born in Montreal, and lived in London (UK) from age 4 – 14. I attended Loyola High School in Montreal and then graduated from York University. I am a (newly – July/2022) happily married man with three adult children. I have always been an entrepreneur and manage an importing business based in Toronto. I am an Ashkenazi Jew with great grandparents from Eastern Europe and Germany. I am 60 years young.
My Breast Cancer Story
October 2016: It all started in the shower when I was lathering up and noticed a lump in my left breast. I went to my family doctor who said it was probably nothing, men rarely get breast cancer. An ultrasound was ordered, followed by a mammogram and then a biopsy.
November 14, 2016: I was formally diagnosed with Stage 2 breast cancer – I was 53. 'Don't worry, you'll have a mastectomy, and chemo, it will take a year out of your life and you'll be OK'. More scans were ordered 'just to make sure'. CT's and MRI's followed, and in late November I was told that it looked like the cancer had spread to my spine! What was originally Stage 2 had now graduated to Stage 4! I would have to go back to my family and children with the dreaded news. There was to be no mastectomy/chemo as neither of these would impact my outcome. I was to be treated with hormonal therapies.
Things were happening very quickly, lots of visits to Princess Margaret Hospital. More tests, scans, biopsies, oncologists. Throughout, I am being asked if I have pain in my back, difficulty walking, balance etc. I replied no to all.
It was now Christmas and the holidays. I did have some pain, but nothing remarkable. December 27th, after walking around all day at the Boxing Day sales, I could not get out of bed. I knew something was terribly wrong, I could not move, I was in excruciating pain. I was taken to Toronto General for an emergency MRI. It was revealed that my spine had fractured in two places. Two of my vertebrae had been weakened so much by the cancer that they compressed. From TGH I was transferred by ambulance to Toronto Western, where they specialize in neurosurgery.
I needed to be put back together, just like Humpty Dumpty. My spine was to be fused, from T2 – T10. The problem was that it was December 28, in between Christmas and New Year's. The 'A' list doctors were on holiday, and you don't want the 'B' list working on you. It becomes a waiting game, every day being prepped for surgery, in case they can assemble the team.
January 3rd: I was told to 'call your family, you'll have surgery in 3 hours'. Eight hours later, I emerged with a zipper running down my back. The surgery was a success!
June 24: I went water skiing in Bermuda!
Where there is hope there is life and where there is life, there is hope.
I Want You to Know
I am not lactating, breastfeeding, menopausal, perimenopausal, on the pill, pregnant, or even possibly pregnant.
These were all on many questionnaires that I was handed when diagnosed.
I want you to know that breast cancer can happen to anyone.
I am a man living with Stage four metastatic breast cancer.
Warren
Diagnosed at 53