Dense breasts can decrease the effectiveness of a mammogram and increase your risk for breast cancer. There are steps you can take to minimize your risk. Know and understand your breast density.
Why your breast density matters.
The denser the breast, the higher the risk of getting breast cancer.
Having dense breasts is a more prevalent risk factor than having a family history of breast cancer.
Mammograms miss about 40% of breast cancers in the densest breasts.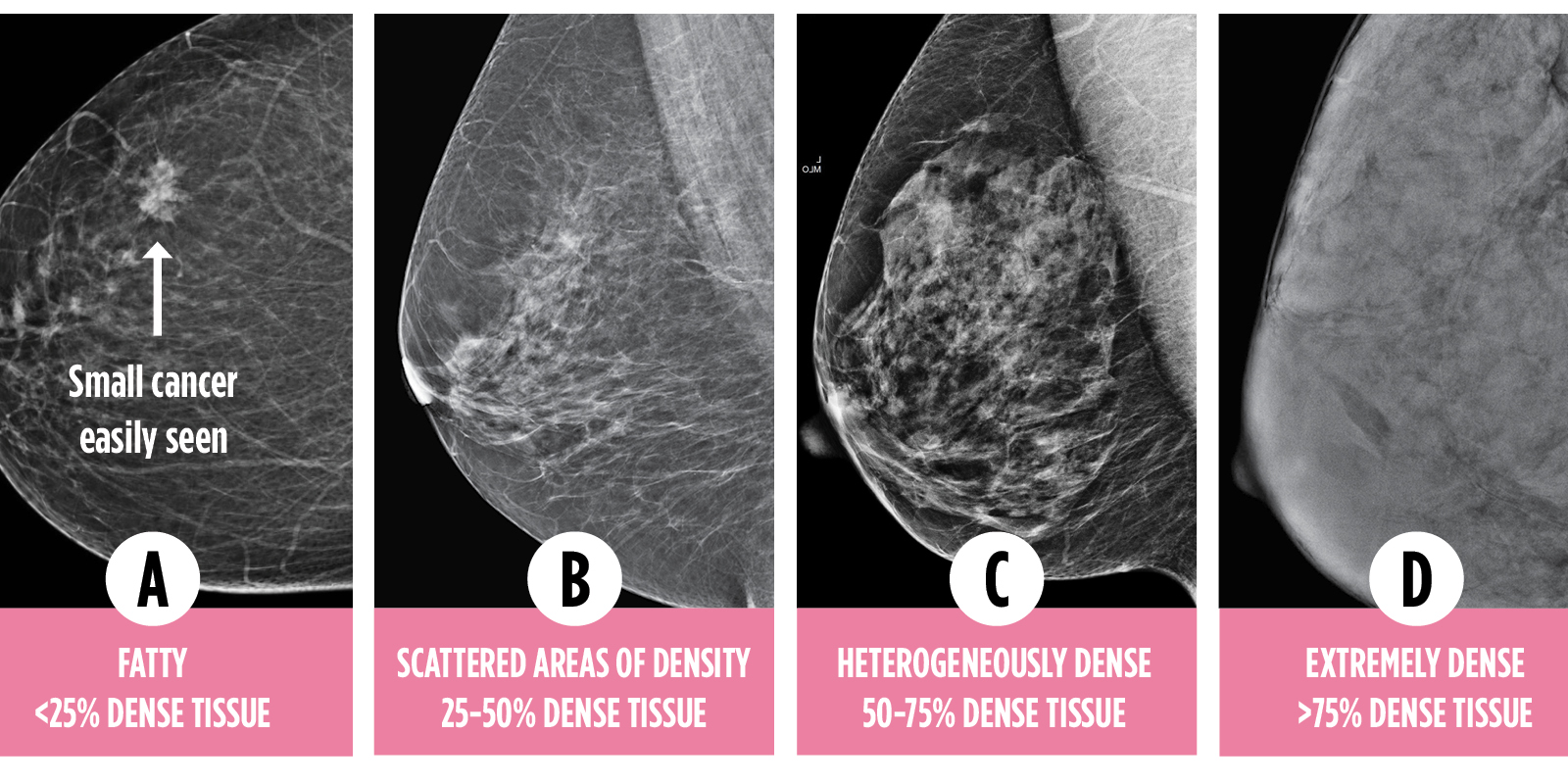 There are 4 categories of breast density.
Category C and D are considered "dense breasts." Dense breasts are common and normal. In fact, about 43% of women ages 40+ have dense breasts.
Dense breasts make it harder to see cancer.
Dense breasts make it harder for radiologists to spot cancer. On a mammogram, dense breast tissue shows up as white and so does a cancerous tumour. This creates a camouflage effect.
Mammograms are a highly effective tool for women with fatty breasts, but mammograms alone are not enough for women with dense breast tissue. If you have dense breasts, you may want to discuss additional screening, such as ultrasound with your healthcare provider.
How to Find Out Your Breast Density 
Get the Facts.
Did you know Canadian breast cancer screening guidelines are misleading, dangerous and based on flawed studies?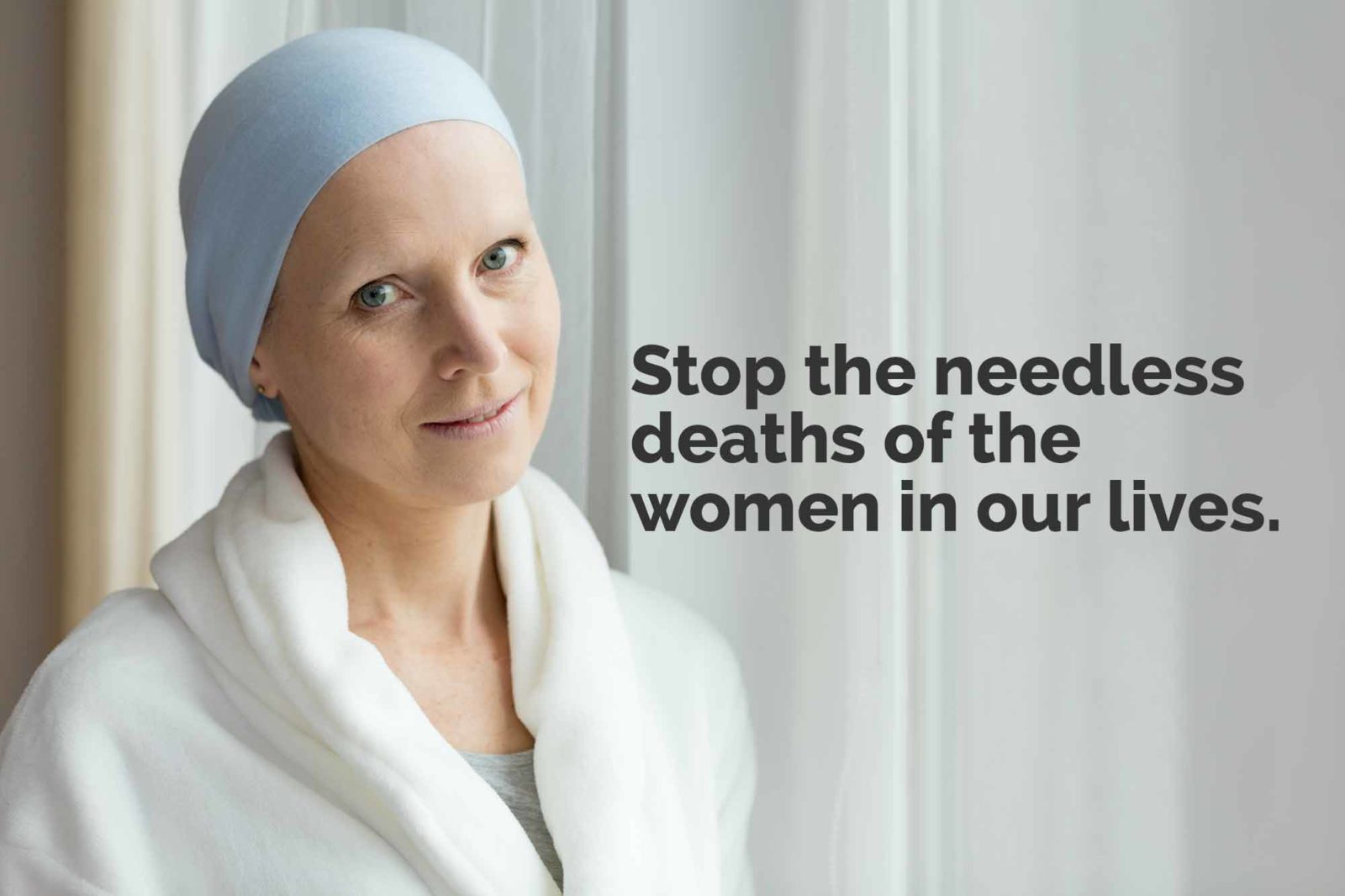 Join us in demanding immediate action to stop the needless deaths of the women in our lives.
Canada has breast-screening guidelines that family doctors use to keep women safe. The problem is that those guidelines are flawed, outdated, and put women aged 40-74 at risk for later-stage breast cancer diagnoses.
Later-stage diagnoses mean more goodbyes, and we won't let that stand.
In the United States, the same guidelines were deemed too dangerous. Yet, in Canada we continue to use them, putting women's lives at risk.
A panel of non-breast cancer experts created these guidelines, including a chiropractor, psychologist, and kidney specialist. They did not consider current scientific evidence and their recommendations differ in every way from those of breast cancer specialists.
Canadian breast screening guidelines are dangerous:
17% of breast cancers occur in the 40s and are more aggressive. Yet, the guidelines do not recommend mammograms until age 50.
Women 50 and over should ideally be screened annually or at the least every 2 years. Yet, the guidelines recommend every 2-3 years.
Black, Asian, and Hispanic women are at higher risk of aggressive breast cancer in their 40s. Yet, the guidelines do not consider racial differences.
Mammograms miss up to 40% of cancers in women with dense breasts. Yet, the guidelines do not recommend extra screening for women with dense breasts.
Self-examination finds many breast cancers. Yet, the guidelines do not recommend self-exams.
These guidelines put Canadian women at risk for later-stage cancer diagnoses, harsher treatments and death.
Sign this form to tell Canada's Health Minister Jean-Yves Duclos to:
Immediately suspend the use of the current breast screening guidelines.
Create a credible and accountable panel with breast cancer specialists to produce safer guidelines.
No more senseless goodbyes. Add your voice.