Dense Breasts Canada Welcomes Ontario Decision to Lower Breast Screening Eligibility to Age 40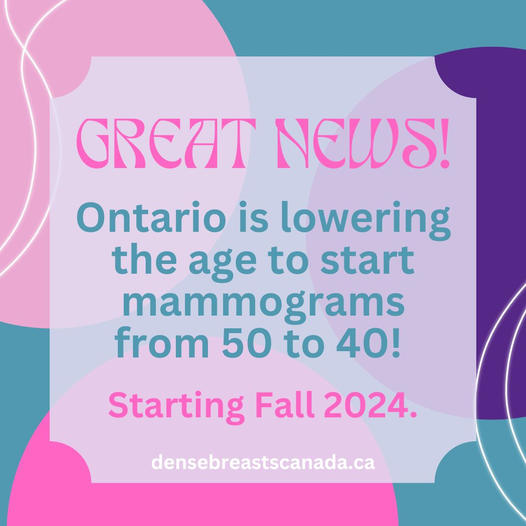 Media Release
Dense Breasts Canada Welcomes Ontario Decision to Lower Breast Screening Eligibility to Age 40
October 30, 2023
Toronto – Today's decision by the Government of Ontario to lower the eligibility age for self-referral for mammograms from 50 to 40 is an important step in protecting the lives of thousands of people in Canada's largest province.
With this decision, it will be easier for about one million additional Ontarians to access mammograms and have the opportunity to diagnose breast cancer early.
"Getting screened before age 50 allows thousands of women to have their cancer detected earlier, when it is easier to treat," says Dense Breasts Canada executive director Jennie Dale, "This is especially important for Black, Asian and Hispanic women who have earlier onset and peak breast cancer incidence in the mid-40s. We applaud this decision by the Government of Ontario, and hope for the soonest possible implementation. Lives depend on early screening."
In today's announcement, Ontario said it will begin the new screening regimen in fall 2024. Currently, every Ontarian, aged 40-49 who wishes to, can access a mammogram now with a requisition from their healthcare practitioner. When self-referral begins in 2024, a requisition will no longer be required. Dense Breasts Canada has been advocating for earlier screening across Canada for many years.
"I encourage Ontarians to start their breast screening when they turn 40," says Dale, "Don't wait a year for self-referral to begin. You can go now by getting a requisition from your practitioner."
Seventeen percent of breast cancers occur in women in their 40s. These cancers tend to grow faster than cancers in older women. Women aged 40-49 who have mammograms are 44% less likely to die of breast cancer than women who do not have mammograms.
Survival depends on tumor stage at diagnosis. People whose breast cancer is diagnosed at Stage 1 have a 99% 5-year survival rate; the rate is only 23% in patients diagnosed at Stage 4.
Finding cancer early not only impacts survival, but it improves quality of life by reducing the need for more aggressive surgery and other treatment. When breast cancer is detected early, the need for chemotherapy and mastectomy, as well as the risk of lymphedema, is reduced.