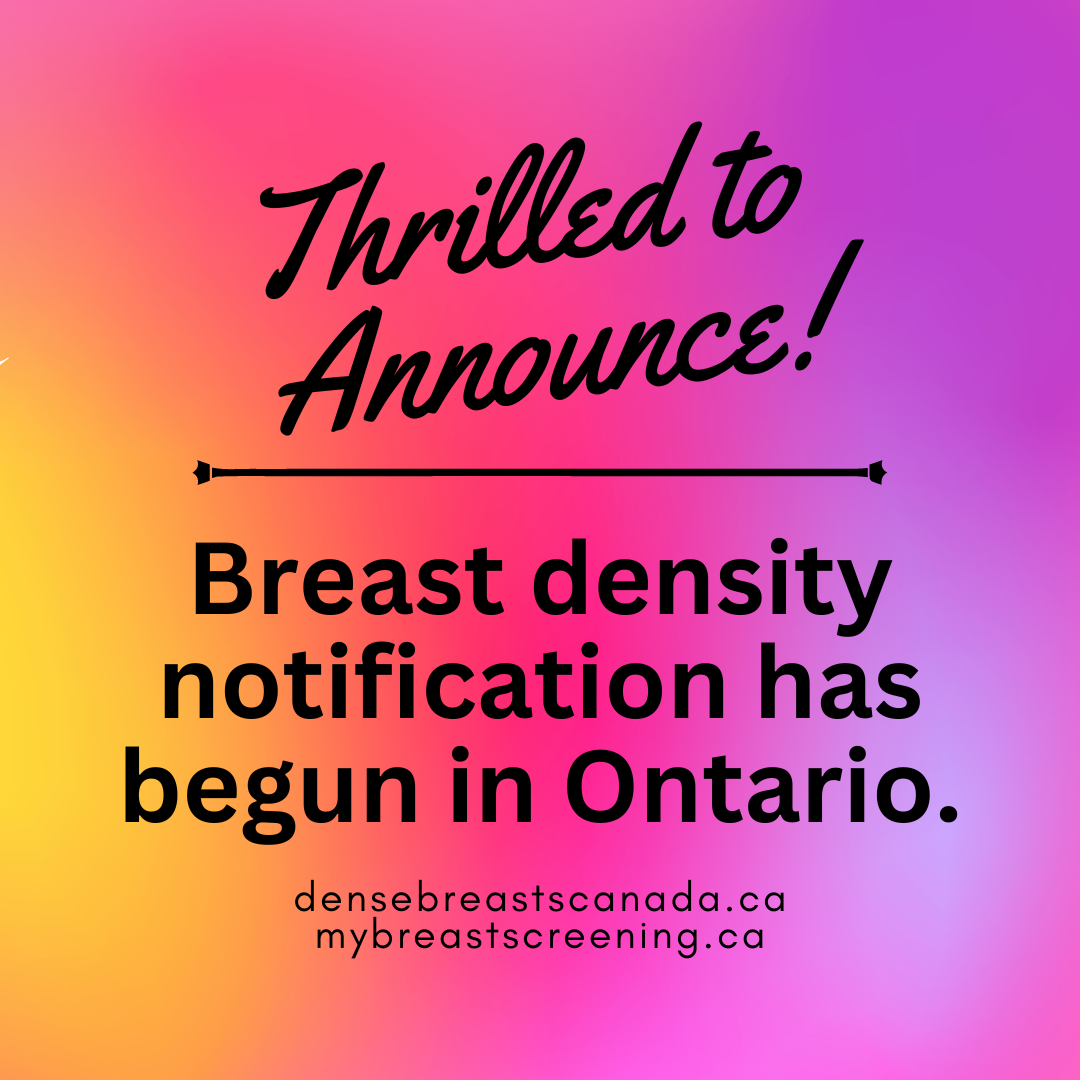 Michelle Di Tomaso and I started Dense Breasts Canada because important breast health information was being withheld from women. We did not expect the many obstacles in getting information to women and we've been tackling them province by province. We're working to expose more secrets, but today we're thrilled to say every woman in Ontario, aged 50-74, having a screening mammogram will now be told her breast density category and associated risk.
Get ready to learn if you're Category A, B, C, or D in the results letter mailed to you after your screening mammogram. If you're in Category C or D, you have dense breasts. That's common and normal. It's important to understand the implications so you can be proactive. Dense breasts pose a double whammy: they increase the risk of breast cancer and make it harder to see cancer on a mammogram. So, what can you do if you learn you have dense breasts? You can self-refer for a mammogram every year, discuss all your risk factors with your healthcare provider, get additional screening like ultrasound, become confident with self-exams, and mitigate any lifestyle risk factors. More news to come this fall: Ontario Health has issued a draft recommendation for supplemental screening for people with Category D density.
Getting policy change in Ontario happened because so many people gave their time, voices and help. Jackie Manthorne, President and CEO of the Canadian Cancer Survivor Network, thank you for inviting me to a CCSN breakfast reception at Queen's Park five years ago. With many Ontario MPPs in attendance, it was the right moment to begin Ontario advocacy. We're grateful to CCSN for the support over the years.
We have so many amazing individuals to thank for their help: Ann Hill, Andrea Douglas, Naomi Pickersgill, Leda Raptis, Diane Wilson, Joan Bush, Veronica Van Rooyen, Debbie Kerr, Rosemarie White, Barbara Moscovich, Jennifer Quaid, Anna DePellegrin, Penny Hersh, Nicki Rivers, Elizabeth Barnes, Rebecca Hollingsworth, Anne Gallant, Adriana Ermter, Lois Johnson, Melissa Di Persio, Carolyn Jack, Melanie Adrian, Ellyn Winters-Robinson, Mary Ellen Cavett, Peter Goldthorpe, Lisa Fielding, Victoria Gay, Eevin-Leigh Schlamp and many others who supported our efforts over the years. Shout out to Dr. Brian Goldman for his 2018 White Coat Black Art show with Michelle focusing on dense breasts.
Thank you also to advocates in other provinces whose efforts for density notification helped make Ontario possible: Michelle Di Tomaso, Annie Slight, Marlie Oden, Kathy Kaufield, Cathy Burke, Lori Ryan, Cathy Rippen-Sisler, Ellen Grant, Gaynor Hart, Trisha MacNeill, and the late Sharon Olson, Janet Gallant, and Sharon MacNeill.
Thank you to you, our followers, for sharing and spreading the message.
DBC could not exist without the never-ending support from our medical advisor, Dr. Paula Gordon. We're also grateful for the support from Ontario breast screening experts: Dr. Martin Yaffe, Dr.Jean Seely, Dr.Anna Wilkinson, Dr Supriya Kulkarni, and Dr Anat Kornecki.
Michelle and I dedicate this win for the women of Ontario to Nancy Cappello, whose legacy lives on.
Onwards.
Our press release can be seen here
https://densebreastscanada.ca/wp-content/uploads/2023/07/Press-release-density-notification-in-Ontario-July-24-2023-.pdf
Jennie Dale