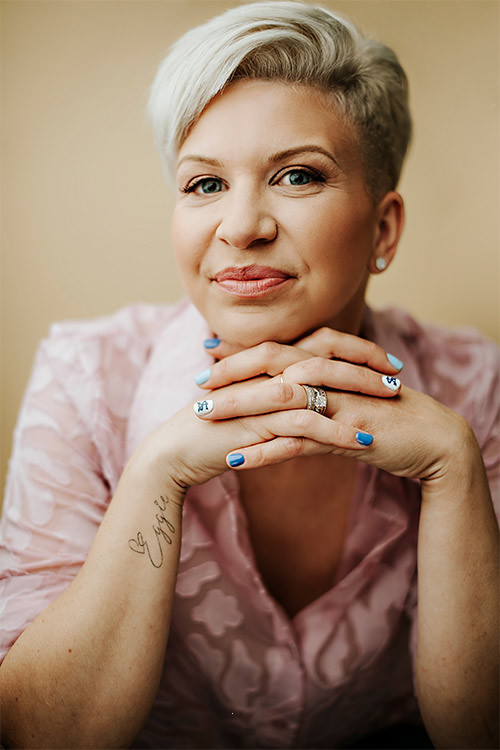 About Me
I am a 39 year old wife and mother from Stouffville ON. I work in real estate and enjoy spending time with my family and 2 dogs. I love baseball and love watching my son play! I was born and raised in Stratford ON and moved to the GTA in my 20's. My family has been in Canada for generations. Both my mother and fathers ancestors were from Germany.
My Breast Cancer Story
In November of 2022, I was in the shower and found a small lump in the lower right corner of my right breast. I try to remember to check occasionally as I lost my mother to ovarian cancer in 2014, and my grandmother and great grandmother both had breast cancer as well.
I made an appointment with my family doctor and she sent me for a mammogram and ultrasound. After my scans, I was booked instantly for a biopsy at Mt. Sinai Hospital in Toronto. On Christmas Eve 2022, I was diagnosed with Invasive Ductal Carcinoma.
Scans showed multiple lesions on my right breast, as well as possible lymph node involvement. I made the decision for a full right mastectomy with a sentinel node biopsy. My surgery was on Feb 2, 2023.
The surgeon removed 8 lesions in my left breast, 4 confirmed to be cancer. He also removed 6 lymph nodes. All which were clear. My cancer had not spread! I have now made the decision as a precautionary measure, to have a full left mastectomy with immediate bilateral diep reconstruction. This surgery is booked for August 31, 2023.
I will also be starting a medication called Tamoxifen because my tumours were ER and PR positive. My oncologist did not believe that chemo or radiation would be of benefit with my case.
I am using this time before my second surgery to enjoy the little things in life. Time with my family, walking the dogs, stopping to take it all in. I am extremely grateful!
I Want You to Know
Under the age of 40, when women are not eligible for mammograms, self-exams can save your life!
Meagen
Diagnosed at 39