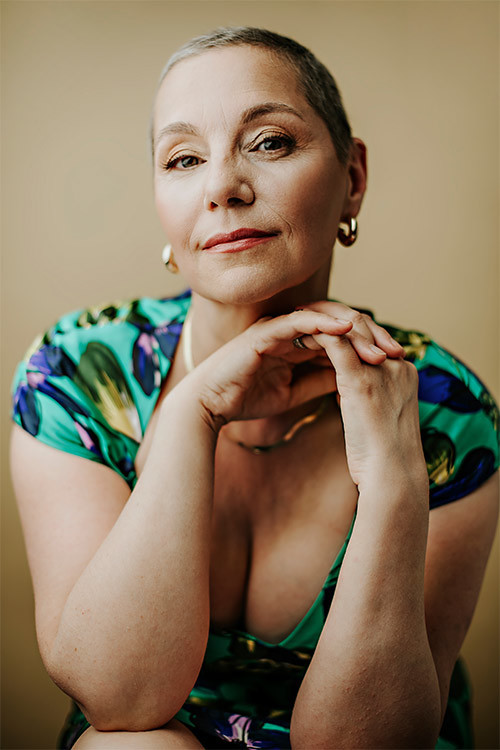 About Me
My name is Zaira – Za- ee- rah. I'm 54. I came to Canada from the Soviet Union/ Moscow in 1991 with my then husband. I have one daughter, Eleanor, who is a wonderful, beautiful, and a very strong human being and my pride! I am a QA analyst who really wants to be a developer/ programmer.
My Breast Cancer Story
On August 4 2022, I was diagnosed with breast cancer: Invasive Ductal Carcinoma, HER2- negative, ER and PR positive. I had just lost my job and started taking test automation courses. I was very excited about the future.
When I got diagnosed, my first two thoughts were: "How am I going to tell my daughter?!" This scared me the most!!! Second thought I had: "I really don't have time for this now!"
After all the discussions with my North York General doctors, I made a decision to do a double mastectomy – surgery September 20, then November 25th, I started chemotherapy.
After two chemo sessions, I had some complications and on December 17th, I went to Sunnybrook ER. I spent a week in the ICU. Sunnybrook doctors were wonderful, but the nurses were real angels.
On December 23rd, my daughter Eleanor, and her partner Alex, signed me out and we had an amazing Xmas and new year at Alex's family chalet with his wonderful family!
My last chemotherapy was on March 28th.
Now I'm here, recovered and keep recovering. Studying again, laughing again, and ready to conquer the world! To be honest, I don't like being called a cancer survivor, I like to think I'm a cancer conqueror.
I Want You to Know
It is very important to put yourself first and find time to do breast exams and go for mammograms.
In the end, it affects your loved ones as well. Loving yourself doesn't mean you love others less.
Remember the airplane rule for parents? Fasten your seat-belt first and then your child's.
Zaira
Diagnosed at 53