1. Your healthcare provider may not be up-to-date on the risks of dense breasts.
Cependant, vous savez que les femmes avec des seins denses sont exposées à un risque plus élevé de cancer, et que le tissu mammaire dense ainsi que le cancer apparaissent en blanc sur les mammographies, ce qui rend la détection difficile.
Sous la section, "Et si j'ai les seins denses," de notre page Informez-vous, nous soulignons ce dont vous devez discuter avec votre médecin.
2. Your healthcare provider may not be aware that the decision to screen at 40 is a woman's decision based on her values and preferences, as stated in the breast screening guidelines made for health care providers. No woman in Canada should be denied a requisition. If you live in a province where you cannot self-refer at 40, it is your decision to have a mammogram in your 40s. And it is highly recommended by experts to do so since 17% of breast cancers happen in the 40s and these cancers are more aggressive, fueled by hormones.  https://canadiantaskforce.ca/guidelines/published-guidelines/breast-cancer-update/
You can also print these scripts to help you prepare for your discussion with your provider about ultrasound and/or mammograms at 40.
https://densebreastscanada.ca/wp-content/uploads/2022/02/Script-for-women-in-40s-wanting-a-mammogram.pdf
https://densebreastscanada.ca/wp-content/uploads/2022/02/Script-for-women-with-dense-breasts-who-want-a-screening-ultrasound.pdf
Nous vous invitons à télécharger notre brochure et de l'apporter lors de votre prochaine visite chez votre professionnel de la santé.
Vous pouvez également référer votre médecin ou infirmière praticienne aux informations pour les Professionnels de la santé sur le site densebreast-info.org (version anglaise). (Cliquez sur densebreast-info.org
Print and take to your doctor these recommendations from Canada's breast cancer screening experts at the Canadian Association of Radiologists and the Canadian Society of Breast Imaging https://csbi.ca/wp-content/uploads/2019/07/CAR-CSBI-Breast-Density-Position-Statement-En.pdf
Current breast screening recommendations for average risk women from the Canadian Association of Radiologists and Canadian Society of Breast Imaging are summarized as follows:
1. Women aged 40-49 should screen ANNUALLY with mammography
2. Women aged 50-74 should screen every one to two years with mammography
3. Women OVER aged 74 should screen every one to two years with mammography for as long as they are in good general health with life expectancy of approximately 7 years or greater
4. Below age 40 screening is not recommended for average risk women, but risk should be assessed by age 25-30 in order to determine if early screening is appropriate.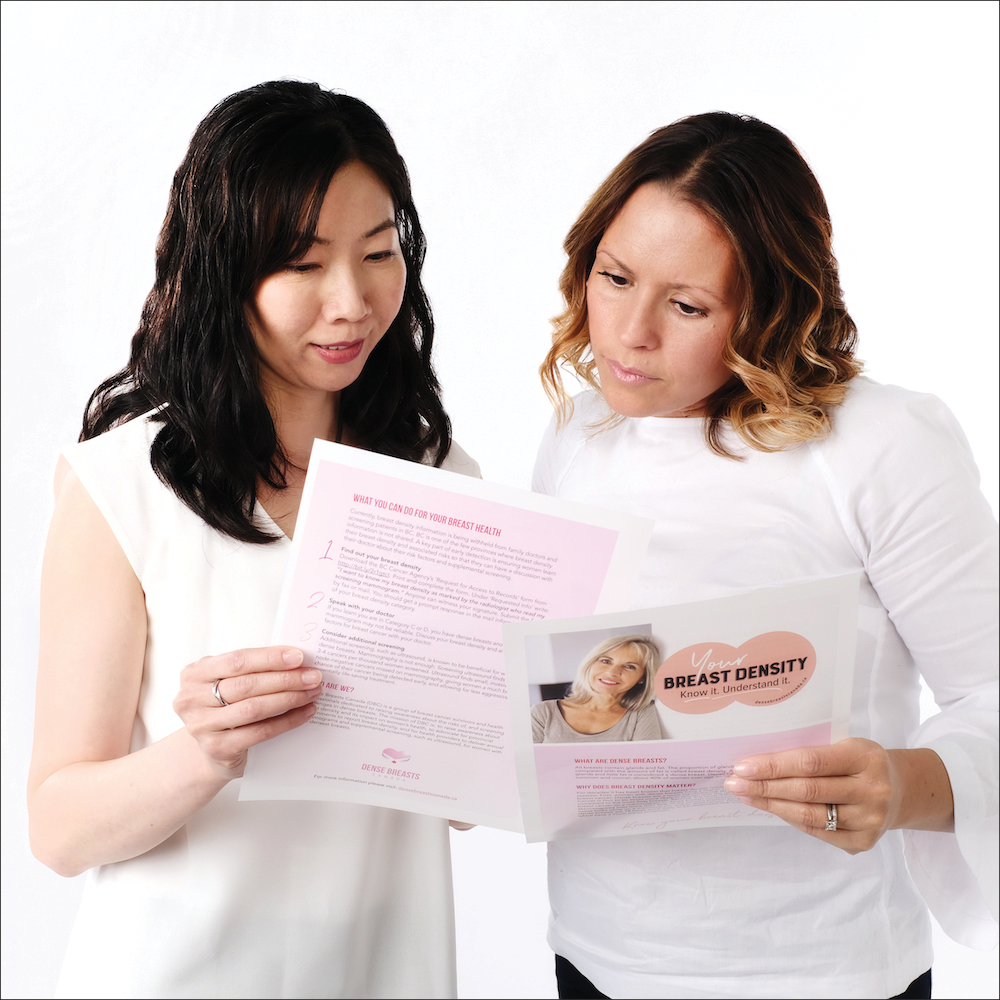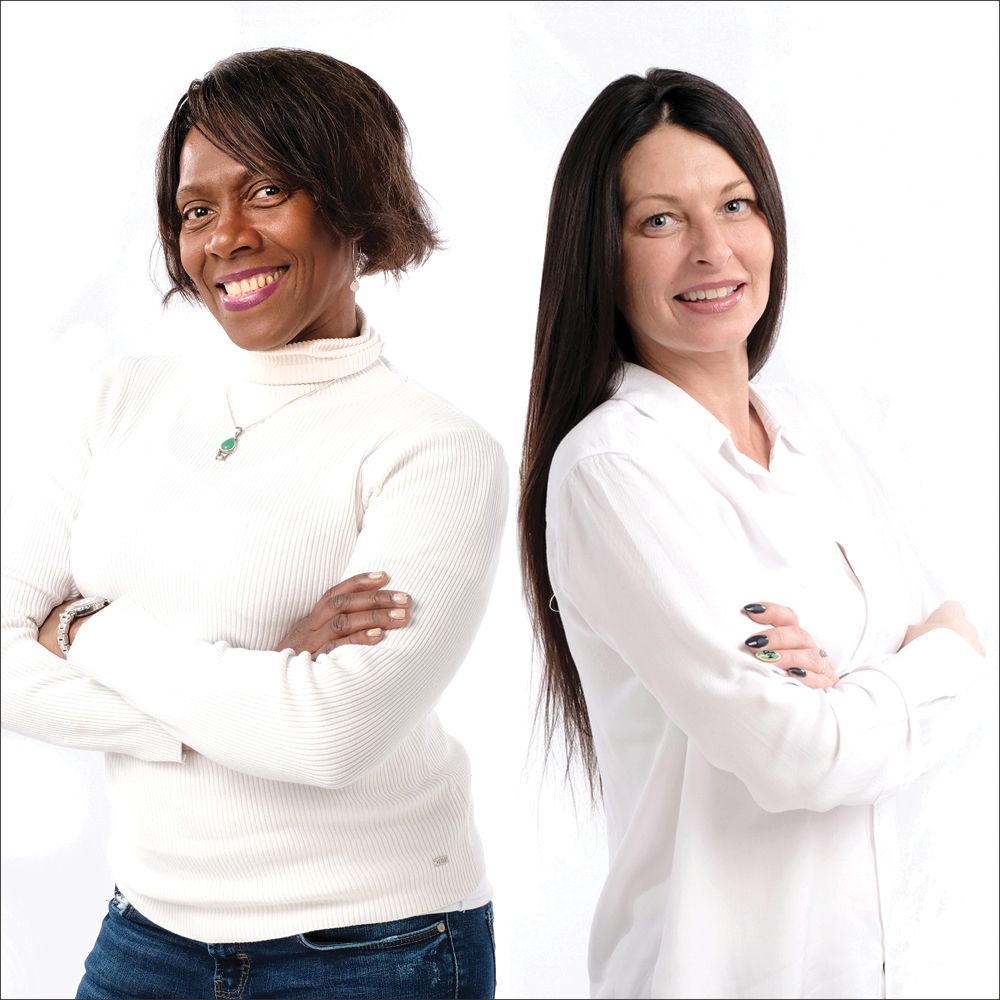 Parlez-en avec les femmes
Demandez à vos amies, votre famille, vos proches et vos collègues si elles ont déjà entendu parler des seins denses. Sinon, dites-leur pourquoi c'est important. Encouragez les femmes à s'informer sur leur densité mammaire. Les informations de chaque province sont disponibles en cliquant ICI
Partagez votre histoire sur notre site
Si votre diagnostic du cancer a été retardé à cause de votre densité mammaire, partagez votre histoire avec nous. Toutes les histoires sont inspirantes et percutantes.
Envoyez-nous un courriel à info@densebreastscanada.ca OU téléchargez votre histoire sur notre page TÉMOIGNAGES. TÉMOIGNAGES.
Joignez notre équipe
We are looking for members from every province to help us raise awareness and advocate for density notification. There is much to be done.  There  is no time commitment. We are looking for volunteers with expertise in marketing, communication, government relations, community engagement and social media.
Suivez-nous et partagez nos informations
Suivez-nous sur Facebook, Twitter et Instagram et partagez nos affiches. Nos réseaux sociaux sont au bas de la page.
We have made great progress in Canada on breast density notification in the past two years.  Currently BC, AB, MB, NS, NB and PEI are directly informing ALL women in their mammogram results letters mailed to them. YT and SK are beginning soon. In most of the other provinces women in the highest category of density are informed. Healthcare providers are being told the patient's breast density. You can ask if you are not in a province that informs all women. In QC, the information is online in each woman's health booklet. Advocacy continues for all women across Canada to be directly informed.
LETTERS TO POLITICIANS
Please see the footer for the letter for your province and please take a minute to send it in. Please consider sharing the letter with your contacts. The more letters that get sent in, the more impactful. Thank you very much! Your Health Minister's address is below.
Also, advocacy continues to ensure that women in Canada with dense breasts can access screening ultrasound and that women in all provinces can self-refer. Please contact us if you are interested in advocating for increased ultrasound access for women with dense breasts. We are currently working on an advocacy tool kit. Stay tuned for our national advocacy campaign this fall.